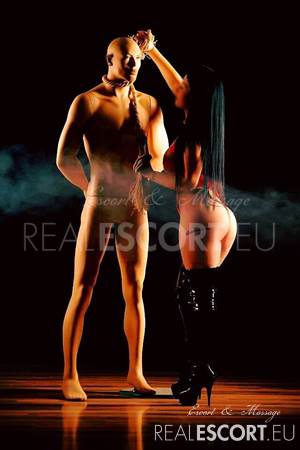 Annonsen ble bilde validert for 1 dag siden
Deea
Befinner seg nå i Aker Brygge
Tilbyr:
Betalingstyper
BitCoin
Cash
MasterCard
PayPal
VISA
Priser:
Anmeldelser: Generelt tilfredshet
God: 152 | Dårlig: 0
Beskrivelse
Hvis du er på jakt etter en uforglemmelig opplevelse, vil du virkelig sette pris på å tilbringe tiden sammen med meg.
Hvis du har spørsmål, kan du gjerne ringe meg ...

Jeg er en ekte og jordnær person, som setter pris på en god prat, og som du vil definitivt finne forfriskende.

Jeg er intelligent, utadvendt, voksen og morsom dame som kan samtale om mange emner. Vi kan snakke om at hva du er interessert i å prate om.

Ikke vær redd for å spørre meg om noen av dine fantasier og ønsker, jeg er veldig åpen til sinns.
Ser frem til å høre fra deg!

Klem Deea.

Jeg snakker litt norsk

Mistress DEEA. I LIKE to SUBMIT with ELEGANCE! PLEASE READ CAREFULLY MY AD BEFORE CONTACTING ME.Greetings to all potential slaves, masochists, pets, sissies and fetishists of all the world! I introduce myself. My name is Mistress DEEA and I am a High Class Luxury Dominatrix/Foot fetish Goddess in OSLO.

I am very confidential, professional and discrete Mistress. I offer a genuinely experiences to interested gentlemen. I adore the BDSM and I enjoy to meet with new people.You will be delighted by my provocative curves, my plentiful breast and my long and muscular legs. I am very selective, if you wont make a good impression upon first contact, rarely you will be given another chance.

My style is playful, sensual and sophisticated. My sessions are intimate and connected.I am a mischievous Mistress, very imaginative and sensual. My sessions are based on fundamental principles: security, reasonableness and will. The requirements and restrictions will be specified before starting the session.

Maximum hygiene, tools always disinfected with toy cleaner, lubricants with dispensers. I have many strap-ons of different sizes, vast selection of old-fashion socks, garter belts and high heels. It will not be easy to forget the time spent with me, always full of good taste and pure transgression! I wait for you in my world to have fun together!P.S.: I AM NOT INTERESTED ON LOW BUDGET SESSIONS WARNING! I exclude any kind of religious abuse, domination ...

✅✅ For beginners and those who call me and think that being dominant I'm violent and bad no it's not like don't think will always do extreme things, the session may consist and show you my femininity touches, a beginner session can be done including a lot of feminization from my part, not include straps and other toys, may include relaxing touches, licking my shell as well as my back, to satisfy me and you, but without doing the usual things, like sex, sex is not and will not be included in the sessions so don't ask about it.
So don't miss seeing someone real ho making you feel relaxed and safe without being bothered by someone where only the two of us, will be safe satisfied and relaxed.✅✅

💄💄Strapon different measures
🦶🏼🦶🏻 Foot Fetish
👅👅Facesitting
📌🧷Needles
🐴🏇🏽Ride a Pony
🕯🕯Wax
👄👄Feminization
👣👠Trampling
👢👢Boots Fetish
👗👙Crossdress
🎞🎥RollPlay
💶💵Money Slave
🎀💋Bisexual Slave
🔐🗝Chastity
🚬🚬Smoke Fetish
🔨👊🏿Balls Torture
🥢⚔️ Hard or Soft Domination
♾🔗Handcuffs
🤼‍♀️🤼‍♂️Wrestling
🚨👮🏻‍♀️Police Outfits
🚑👩🏻‍⚕️Nursery
🥢🏏 Wips
📿🐕 Leash
🤬🤬Ditry Talk
✍️🖐Handjob
👑👠Mistress
👋👏Slaps
👜🧥 Leather
✂️✂️Scissors
🍾🥂Champagne
💩💩Caviar
🧶⛓ Bondage
🔋💥Electric FETISH
💅💅🏼Nails Fetish
🏏🥢Whipping Spanking
💦💧Spit
🍼🍼 Baby Tratament
🚬🚬 Smoke Fetish

✅PS. MY PICS ARE 100% REAL IS IM NOT ME YOU CAN LEAVE NO PROBLEM.

✅ I LIKE GENTLEMAN'S AND MEN'S HO KNOW TO APPRECIATE AND BEHAVE A BEAUTIFUL GIRL.

⛔️ IT IS MY RIGHT TO SELECT MY CLIENTS

✅I ACCEPT GUYS AND GIRLS THE SAME

⛔️IM A STRICT DOMINA❗️❗️

✅For everyone else: the first contact ONLY by PHONE!LOCATION WILL BE PROVIDED once booking is confirmed.

⛔️I AM NOT AN ESCORT.......IM STRICT DOMINA SO DONT ASK ABOUT SEX SERVICES OR GFE......I DONT OFFER❗️❗️

⛔️THIS ADD ITS JUST FOR SCANDINAVIANS AND WHITE GENTLEMANS\COUPLES\WOMENS ONLY

⛔️BEFORE VISIT ME READ BETTER MY ADD AND SERVICES❗️❗️

✅I LIVE ALONE IN A LUXURIOS APARTAMENT IN THE BEST AREA HEART OF OSLO WHERE YOU WILL FIND EVERYTHING FRESH CLEAN AND MOST IMPORTANT DISCRETION THAT I LIKE TO LIVE ALONE TO NOT DISTURB OUR SESSION ...SO NO OUTCALLS DON'T ASK ABOUT..

✅ THE BEST WAY TO THANK ME ITS TO LEAVE FEW LINES ABOUT ME IN THE REVIWE SECTION AFTER WHICH YOU WILL BE ADDED IN MY GOOD LIST AND ALWAYS YOU WILL HAVE PRIORITY TO ME,BE THE BEST

✅✅✅✅PRICES✅✅✅✅


✅ 1 STANDARD PACKAGE 2500NOK✅
LIGHT DOMINATION STANDARD CLOTHES TOYS FOOT FETISH CBT STRAP-ON ALL SIZE SPIT SLAP CROSSDRESSING HUMILIATION BE MY SLUT DOG PONNY BONDAGE BREATH CONTROL VERBAL ABUSE AGE PLAY ROLL PLAY SECRETARY OFFICE NURSE CBT

✅2 MEDIUM PACKAGE 3500NOK✅
MEDIUM DOMINATION LATEX LEATHER CLOTHES TOYS TRAMPLING FOOT FETISH CBT SPIT SLAP STRAP-ON ALL SIZE BONDAGE BDSM CROSSDRESSING HUMILIATION CBT BE MY SLUT DOG PONNY BREATH CONTROL VERBAL ABUSE AGE PLAY ROLL PLAY SECRETARY OFFICE NURSE QUENNING FACESITTING RIMMING ON ME CHAMPAGNE SMOKE FETISH WRESTLING

✅3 PREMIUM PACKAGE 5000NOK✅
VERY HARD DOMINATION ROLL PLAY ALL TOYS STRAP-ON ALL SIZE SEXY LATEX CLOTHES LEATHER FISTING TRAMPLING SMOKE FETISH BABY TRATAMENT CLOTHES FOR YOU CBT QUENNING FACESITTING RIMMING ON ME CHAMPAGNE CAVIAR ....ALL MY SERVICES ARE INCLUDED PLUS YOURS MORE FANTASIES...

✅ FULL TOILET TRAINING ONLY 20min 3000NOK✅

✅WHATSAPP : +47 947 27 364 PHOTOS AND VIDEOS ABOUT PRICE TEXT OR CALL ME DOMINATION VIDEOS ALL YOU NEED ASK FOR SPECIAL VIDEOS OR PHOTOS OR LIVE DOMINATION🖤

✅ THIS IS MY ONLY ADD CALLED DEEA REST ARE FALSE DON'T CONFUSE

⛔️PRICES ARE NOT NEGOTIABLE DONT ASK FOR DISCOUNT

⛔️IF YOU MAKE SHORT BOOKING AND YOU DON'T CANCEL TEXT OR CALL WHIT 2 HOURS BEFORE MEETING OR LONG BOOKING WHIT FEW DAYS BEFORE AND DONT CANCEL WHIT 1 DAY BEFORE NEXT TIME THE STANDARD PRICE WILL BE WHIT 1000 NOK MORE ❗️❗️ OR EVEN BLOCK⛔

⛔️IF YOU WHANT TO VISIT AFTER 12am PRICE WILL BE 500 nok MORE FOR LATE HOUR ❗️❗️


✅✅ Instagram: dominatrix_of_north ✅Instagram there u find link for OnlyFans ✅ or text me to send link✅
Kontakt
Tar imot/svarer sms : Ja
Godtar WhatsApp-meldinger: Ja
Svarer hemmelige nummere: Nei
Tar imot/svarer sms : Ja
Godtar WhatsApp-meldinger: Ja
Svarer hemmelige nummere: Nei
Si: Jeg fant annonsen på RealEscort
Jeg snakker:
English: Bra
---
Vennligst fortell meg at du fant denne annonsen hos www.realescort.eu
Generell advarsel!
SEND ALDRI PENGER PÅ FORHÅND når du bestiller en eskortetjeneste!
Disse annonsene er for det meste og sannsynligvis svindel. De krever vanligvis bekreftelse som ny klient
ved å sende en viss sum penger med Paysafecard, kuponger, Google play card, PayPal etc.
Dette er en generell advarsel vi gir til alle besøkende. Det handler ikke om denne spesifikke annonsen du besøker.
Tjenester
Rødt varsel ikon betyr at service har spesielle instruksjoner, klikk for å lese mer.