Annonsen ble bilde validert for 21 dager siden
Videoer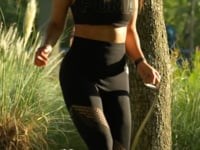 APRIL
Befinner seg nå i Oslo
Priser:
Anmeldelser: Generelt tilfredshet
God: 173 | Dårlig: 0
Beskrivelse
💄💄Please read my profile before booking a date to me



Hello there and welcome to my ad!🤗

Let me take this opportunity to introduce myself.My name is April and WHAT YOU SEE IS WHAT YOU GET!(real and updated pics,as you can see a mix between private and professional photos).Described as stunningly beautiful with a very long NATURAL HAIR 👩 ( no extensions); elegant ,sophisticated funny,unpretentious and completely down to earth.💁🏽‍♀️
As one may expect,I am selective regarding the guests I choose to meet,and cater exclusively to mature,distinguished gentlemen who settle for nothing less than the very best and appreciate the finer things in life.I enjoy providing you the most exciting Girl Friend Experience.The moment you enter my super nice,upscale,comfortable and discreet apartment in a high-class area os Oslo(easy parking nearby🚘)you will immediately feel that our encounter will be memorable one.💫✨

❣️❣️❣️❣️❣️❣️❣️❣️❣️❣️❣️❣️❣️❣️❣️❣️❣️❣️❣️❣️❣️❣️❣️❣️❣️❣️❣️❣️❣️❣️❣️❣️❣️❣️❣️❣️❣️❣️❣️❣️❣️❣️❣️❣️❣️

📌 I am also extraordinary concerned about your privacy so you can rest assured that our rendezvous will take place in an absolutely stress free and relaxed atmosphere 🕯💫.Your safety is highly important to me,and of course I don't have co-worker or any other girl 👧 ⛔️ living in my place.My apartment is situated in the building in such a way that the neighbours can't easily see persons arriving or leaving 👍.


💫✨ EXCLUSIVE SERVICE ✨💫

INCLUDED WITH 2 HOURS SERVICE OR LONGER: I can offer you a professional full body massage 💆‍♂️ on a special massage bed as you can see in the photos. I know what I'm doing, I have my diploma 📜,I have it with me so I can show you ☺️. I guarantee you will feel very relaxed and happy at the end of our long date💋( if you decide to try it, you should let me know before of our meeting not during it 😉).




📌 When you are ready for the ultimate in luxury companionship,give me a call!📲 I promise you the time of your life.I truly enjoy being a courtesan,and I'm sure you'll make me your first choice after meeting me!🤩



📌I appreciate donations for my time also in euros 💸 also by REVOLUT 📲"



‼️IMPORTANT POINTS TO TAKE INTO ACCOUNT BEFORE YOU CALL ME‼️

📌📌 I have some special rules than you must follow when you visit me in my apartment. Don't worry, it's nothing dramatic, just safety measures for our common health, and It doesn't affect the service I provide.



📌📌 I Will only meet a few guests per day( I prefer quality no quantity)… my regulars will have the priority so you should keep this in mind when you contact to me…


📌📌 my donations are non-negotiable and I don't give discounts( neither if you are regular). I always do the best I can to give first class service, and therefore my donations are fixed.


📌 I'll only answer NEW GUESTS if they call me from numbers are registered on 1881.no

📌 Date and Time you want to meet me 🗓

📌 How long time you want to be with me ⏳

📌 your originally ethnic 🌍 because I've have bad experiences with some and I am not going to accept new clients from there without exceptions.

📌 I am free to select new guests….if for some reason you give me bad vibes from communication with you, I am in my full right not wanting to meet you so…" don't continue insisting 🤦🏽‍♀️📞( even if you are from norway)

📌 I only answering messages via WhatsApp 📲

📌 I have no obligation to answer all messages or calls.


📌 If you book a date with me and you don't come or even let me know in the last moment,don't expect to be given another chance,that will not happen anymore ❌🚷

📌 Please don't visit me if you are under influence of alcohol 🥴 or drugs 💊


📌 I don't do sex without condom, please don't ask for such services 📛



📜 NOTE THE FOLLOWING:

🎈 Before having intimate contact, my guests must be clean especially your hands 🤲🏻✨. I always have products needed for hygiene available,🧼🧴🚰 and after you have taken a shower 🚿,a fresh towels 🧺is of course waiting for you.

🎈I am very healthy woman and I want continue like that,so don't visit me if you have flu 🤧,any virus ( Covid 19)🦠 😷,veneral diseases,herpes lips,genital herpes (even when it's currently inactive,it can be transmitted 😱),genital warts etc...


🎈Please give me my donation 💌 for our time together at the beginning of our meeting so I don't need to embarrass myself by asking🤭. Do this even if you know me from before.



💞 Thanks a lot for your understanding. Let's meet for a fantastic time together without rush,💝 A Real Girl Friend Experience 💝 because during our date that you will be the most important for me!!


Sweet kisses💄💋💋

Spanish Señorita April 💃🏽( made in Spain 🇪🇸)
Kontakt
Kontakttid/treffetider
Si: Jeg fant annonsen på RealEscort
Jeg snakker:
Spanish: Bra
English: Bra
---
Vennligst fortell meg at du fant denne annonsen hos www.realescort.eu
Generell advarsel!
NEVER SEND MONEY IN ADVANCE if you book a meeting or service!
These ads are mostly and probably SCAM. They usually require your verification as a new client by sending a certain amount of money by Paysafecard, Coupons, Google play card, PayPal, Vipps, Wire transfer, Account to account etc.
Dette er en generell advarsel vi gir til alle besøkende. Det handler ikke om denne spesifikke annonsen du besøker.
Tjenester
Rødt varsel ikon betyr at service har spesielle instruksjoner, klikk for å lese mer.
Les mer
Kalender
Mars 2023
April 2023
Uke 14