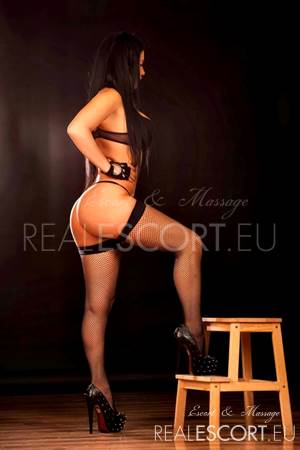 Annonsen ble bilde validert for 8 dager siden
MISTRESS
Befinner seg nå i Oslo
Priser:
Anmeldelser: Generelt tilfredshet
God: 46 | Dårlig: 0
Beskrivelse
🗝BEAUTIFUL SENSUAL SADISTIC 🗝

Just a few words to describe Me!
With long dark hair & legs to die for with blue eyes to intoxicate you into My world of BDSM, fetish kink.
A Diva, the Ultimate'Femme Fatale' the Ultimate Dominant!
Intoxicating, Hot, Fiery, Cool & Confident.

I am a very beautiful sensual Mistress with a fit and athletic body to worship. I body build to sculpt my muscles and keep my size 8 figure toned I have an overpowering sensuality so be warned, I am a powerful and irresistible woman!

Do you want to know what it feels like to be kneeling, waiting in anticipation to give up your control to the Ultimate Domina?

Then look no further... I am the Mistress you want to worship, obey and suffer for.
I am here to LEAD you, explore with you all of your deepest, darkest, deviant desires, kinks, perversions.

I understand that pain & pleasure cannot exist without the other, that liberation cannot come without sacrifice!

Welcome to my world of sensual domination, divine bondage, discipline and fetishes. I give you the opportunity to escape your everyday life and let yourself be fascinated and revitalized by my divine dominant, sensual eroticism. I am your ultimate Dominatrix.... Once you are here you won't want to leave.
How is it that some people are squeamish about feet? If you have a foot fetish, shoe fetish or stocking fetish and you live Here you are in the right place to help explore your fantasies.
The basic fact is that foot fetishes are incredibly common and one of the basic moves in Domination – when someone is made to do something so disgusting and degrading such as licking a shiny, patent boot or shoe clean. This is when they feel at their most submissive.

🥢⚔️ Hard or Soft Domination ♾🔗Handcuffs 🤼‍♀️🤼‍♂️Wrestling 🚨👮🏻‍♀️Police Outfits 🚑👩🏻‍⚕️Nursery 🥢🏏 Wips 📿🐕 Leash 🤬🤬Ditry Talk ✍️🖐Handjob 👑👠Mistress 👋👏 Slapping 👜🧥 Leather ✂️✂️Scissor 🍾🥂Champagne 💩💩Caviar 🧶⛓ Bondage 🔋💥Electric FETISH 💅💅🏼Nails Fetish 🏏🥢Whipping Spanking 💦💧Spit 💄💄Strapon different measures 🦶🏼🦶🏻 Foot Fetish 👅👅Facesitting 📌🧷Needles 🐴🏇🏽Ride a Pony 🕯🕯Wax 👄👄Feminization 👣👠Trampling 👢👢Boots Fetish 👗👙Crossdress 🎞🎥RollPlay 💶💵Money Slave🎀💋Bisexual Slave 🔐🗝Chastity 🚬🚬Smoke Fetish 🔨👊🏿Balls Torture

⛔️No hidden numbers. Slaves must call me on the phone. For everyone else: the first contact ONLY by PHONE!LOCATION WILL BE PROVIDED once booking is confirmed.

✅I also accept novices. Novice subs will taste the sweetness of submission. Im not bad, Im just drawn that way ;)I love boys who love toys ;)N.B.: Only Domination! NO SEXUAL SERVICES/GFE ON OFFER!

⛔️CANCELATION OF BOOKING MUST TO BE DONE WHIT ONE HOUR BEFORE MEETING IF YOU DON'T DO IT AND YOU DON'T SHOW UP NEXT TIME MEETING WHIT HAVE A EXTRA CHARGE.

⛔️REMEMBER: IM A STRICT DOMINA NO SEXUAL SERVICES DONT ASK IM NOT AN ESCORT

✅I LIKE NATIVE SCANDINAVIAN GUYS=GIRLS TO BE MY SLAVES

⛔️PS: DONT CALL JUST TO MAKE CONVERSATION AND ASK FOR ADRESS JUST TO BE CURIOS WHERE I STAY FOR NOTHING AND WASTE MY TIME PLEASE BE SERIOS AND BEFORE YOU CALL READ MY ADD FIRST AND MY SERVICES DONT ASK FOR ANOTHER THINGS IF I DONT HAVE IN MY ADD, ONLY IN DOMINATION IF YOU HAVE DIFFERENT FANTASY ITS OK CALL ME TO TALK ABOUT....

✅ QUEENING FACESITTING RIMMING AND CHAMPAGNE ITS 1000NOK MORE ✅

✅ FULL TOILET TRAINING 3000NOK FOR 20MIN AND 5000NOK FULL HOUR SESSION ✅

✅I LIVE IN THE HEART OF OSLO ALONE IN A LUXURIOS APARTAMENT WHIT EVERYTHING CLEAN AND LOT OF DISCRETION
Kontakt
Tar imot/svarer sms : Ja
Godtar WhatsApp-meldinger: Nei
Svarer hemmelige nummere: Nei
Tar imot/svarer sms : Ja
Godtar WhatsApp-meldinger: Nei
Svarer hemmelige nummere: Nei
Si: Jeg fant annonsen på RealEscort
Jeg snakker:
English: Bra
---
Vennligst fortell meg at du fant denne annonsen hos www.realescort.eu
Generell advarsel!
SEND ALDRI PENGER PÅ FORHÅND når du bestiller en eskortetjeneste!
Disse annonsene er for det meste og sannsynligvis svindel. De krever vanligvis bekreftelse som ny klient
ved å sende en viss sum penger med Paysafecard, kuponger, Google play card, PayPal etc.
Dette er en generell advarsel vi gir til alle besøkende. Det handler ikke om denne spesifikke annonsen du besøker.
Tjenester
Rødt varsel ikon betyr at service har spesielle instruksjoner, klikk for å lese mer.